Letter to the Editor - September 23, 1999
The Stuart Herald
September 23, 1999
Page 2
LETTERS TO THE EDITOR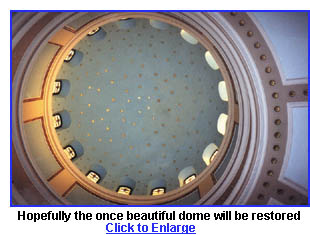 The Historic All Saints building will once again be enjoyed by everyone and it will again be the focal point of our city and our cultural heritage.
We have some great plans for the building and exciting news for the people of this community. Everyone will have the opportunity to help in whatever way they can to see this building restored.
I know this building has a special place in the hearts of the people of this community. You can compare it to having a loved one who has become sick. We will find the best doctors, determine a path of treatment and rehabilitate our loved one back to perfect health.
It has been said that this building was the heart and soul of this community. Even in ruins people looked upon it in awe and were still attracted by its singular beauty.
The beauty of this building transcends denominations. You didn't even need to be a believer to know that there was something very moving when you entered this space.
God works in mysterious ways and I believe what is happening in this community now is going to make us a better and stronger people.
Join us Monday, September 27, 7:00 p.m. at the Stuart Town Hall. A presentation will explain Project Restore's plans for restoration and discussion will follow.
Richard Doherty
Stuart, Iowa
Back to "Letters to the Editor" Menu
---
| Home | Letters to the Editor | Newspaper Articles | Pictures | How to Help | E-Mail Us |
---
©1996-99-97 Project Restore, Stuart, IA USA. All Rights Reserved.
Web site designed by Scott Neader of Internet Solutions and hosted by QTH.com