The State Historical Society of Iowa Board of Trustees approved grants last Thursday totaling nearly $1.7 million for historic preservation in Iowa. Among the 21 projects that received the grants was Project Restore Foundation, formerly the historic All Saints Church in Stuart. The foundation received $60,000 toward the total project cost of $120,000. At a minimum, recipients must provide a dollar-for-dollar cash match for their grants. The projects must also be completed by June 30, 2003.

Restoration would include the cloister between the Turn-of-the-Century- Chapel, the sacristy, stairway, and room below the sacristy in addition to a restroom and a copper eave on the west roofline of the Chapel. The building will be used as a Community Cultural Center, a traveler visitor center and Institute of Religion and Peace.

The grants come from the Historic Site Preservation Grant program, now in its third year. The grants range from $40,000 to $100,000 with no more than two grants going to any one county. There were 30 eligible grant requests to consider this year.

"I'm impressed that so many groups requested funding, especially since the matching requirements are so strict. The list of projects shows there is great demand for historic preservation in Iowa," said Dorothy Schwieder, chairwoman of the State Historical Society of Iowa Board of Trustees.

It is estimated the grants will help stimulate projects totaling more than $6.6 million.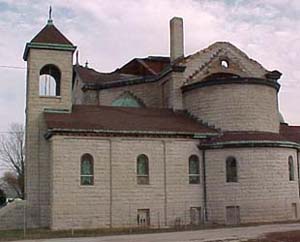 View showing chapel and cloister area.
(Click to Enlarge)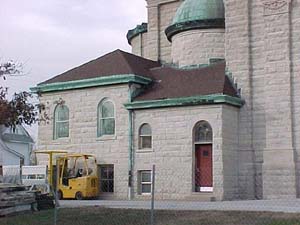 Sacristy and stairway leading to basement.
(Click to Enlarge)