The Project Restore Foundation has contracted with Koester Construction of Des Moines to begin work to remove loose masonry and debris from the upper areas inside the Historic All Saints building. Work will begin in the near future.

"There won't be many noticeable changes from the outside as most of the materials to be taken down are inside the wall," said Dick Doherty, president of Project Restore. "Items such as ceiling rafters still connected to the base of the metal dome support and loose brick will be taken down and either kept as patterns or tracked for reuse or removed if they are not reusable," Doherty said.

In addition, other areas will be reinforced or covered for protection. The site work will take approximately two weeks and utilizes funding provided in part by an emergency grant from the Resource Enhancement and Protection/Historic Resource Development Program (REAP/HRDP) in addition to private contributions.

Project Restore continues to work on the Turn-of-the-Century Chapel, which is nearing completion. The Foundation is also continuing to fund raise and to write for grants toward further improvements. To contribute, please send checks to the Project Restore Foundation, P.O. Box 357, Stuart, Iowa 50250.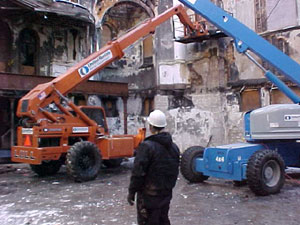 Workers remove loose plaster from walls . (Click to Enlarge)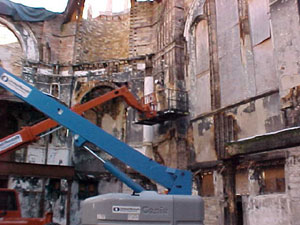 Lifts reached heights of 85 feet.
(Click to Enlarge)