The State Historical Society of Iowa announces that the Historic All Saints building, formerly the All Saints Catholic Church, was listed in the National Register of Historic Places effective December 7, 2000. The National Register is the Federal Government's official list of historic properties worthy of preservation. Listing in the National register provides recognition and assists in preserving the Nation's heritage, including qualifications for federal and state grants for historic preservation and eligibility for other credits for rehabilitation.

Representatives from the Project Restore Foundation who are working to restore Historic All Saints are invited to a celebration of Preservation Week next May to receive an official certificate from Governor Vilsack at the state Capitol.

"Project Restore is proud to have achieved the listing on the National Register for Historic All Saints. Many volunteers from the community and beyond have offered their time and skills toward the clean up and restoration of this important building," Dick Doherty, Project Restore president said.

Project Restore hopes to create an adaptive reuse for Historic All Saints as a community cultural center and an Institute of Religion and Peace. Several helpful grants and matching contributions have helped the project to date. Project Restore believes that if half of the necessary funds for restoration( approximately $3 million) could be committed, there would be a good chance of obtaining the remainder through a State Community Attraction and Tourism grant as part of the Vision Iowa Fund program.

To assist Project Restore in restoring Historic All Saints, volunteer time by calling 515-523-2921 or send donations to Project Restore Foundation, P.O. Box 357, Stuart, IA 50250.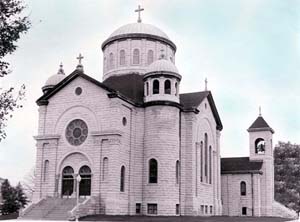 Historic All Saints Church voted by Des Moines Register readers as "the most beautiful church in Iowa". (Click to Enlarge)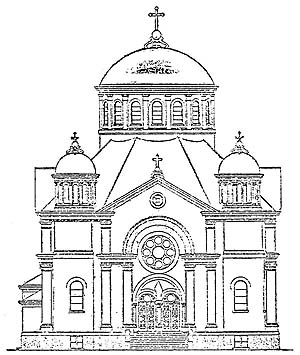 Drawing of All Saints Church from the Stuart Herald July 1910.
(Click to Enlarge)