The Stuart Herald
April 10, 1997
Page 1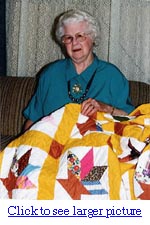 GREAT GRANDMA FROM MENLO, IOWA OFFERS TO "PLANT THE SEED"
STUART, IA -- Inez Michael, a great grandmother from Menlo, wants to do what she can to raise money for Project Restore, the group that has been trying to save All Saints Catholic Church building since it was set on fire nearly two years ago. Inez, an experienced quilter, has offered to donate a full-size yellow "sunshine and flowers" quilt to be raffled off, with the proceeds going toward Project Restore to offset the costs of its efforts to obtain the structure.
After visiting with her great granddaughter, Natalie Lonsdale, Inez notified, Project Restore members of her desire to "PLANT THE SEED" for other area residents to offer whatever type of assistance they can. Her offer was readily accepted by Project Restore, and the group is currently making plans to raffle the quilt as a fundraising project.
Plans call for tickets to go on sale Monday, May 12 in conjunction with Preservation Week May 11-17. The quilt will first be displayed at the First State Bank, Stuart, Iowa.
For more information send email to Project Restore at phoenix097@aol.com.
---