PROJECT RESTORE: All Saints Church, Stuart Iowa
| Home | Letters to the Editor |
| Newspaper Articles | Pictures | How to Help | E-Mail Us |
---
The Des Moines Register
October 5, 1997
Page 1B
REBUILD-CHURCH GROUP WON'T QUIT
They don't want a new one

By Kirsten Scharnberg
Register Staff Writer

STUART, IA -- It's been more than two years since an arsonist's blaze gutted the All Saints Catholic Church, considered to be among the grandest in the United States.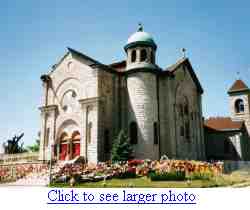 Some people in this little town are sick of the publicity. Sick of the debate over whether to rebuild or restore. Sick of Sunday services being split into two factions: those who support church leaders' decision to erect a newer, cheaper place of worship and those who demand that millions of dollars be spent to refurbish the old one.
But even if people are sick of it, the controversy has raged ever since that August 1995 day when Charles Willard, a man consumed by hatred for the Catholic religion, set the church afire.
"We are committed to rebuilding. It is our cultural heritage. That beautiful church is the heart and soul of our community. It always has been. Even right now, completely gutted, God, is it beautiful," said Richard Doherty, spokesman of Project Restore, a group raising money to restore the 1908 church.
But the parish council of All Saints voted to build a new church and tear down the charred remains of the old one. In fact, just this fall, they broke ground at a 95-acre plot on the outskirts of Stuart where a new church is to stand.
"It's been decided to build again," said Tom Chapman, a spokesman for the Catholic Diocese in Des Moines. "Perhaps the ideal for everyone would have been to be able to restore the old church. But it would just cost too much."
Estimates for restoring the gutted building have ranged from $2 million to more than $5 million. The insurance settlement was $3.9 million, but the church council voted not to spend that on restoring the 90-year-old church.
Still, the members of Project Restore aren't giving up. They already have raised more than $65,000, have found contractors in the Des Moines area who are willing to donate their time and supplies to the restoration effort, and hope a quilt raffle will generate thousands more dollars. But even if the group raises all the money in the world, it might be for naught. The Catholic Diocese owns the charred church and has not agreed to turn it over to Project Restore.
"I'm not sure that we will," Chapman said. "But I guess we're entertaining the idea."
To the folks in Project Restore, the diocese's hesitance to turn over the building is inexcusable.
"I can't understand the logic of just not giving that building to people who are committed to restoring it," Doherty said.
---