PROJECT RESTORE: All Saints Church, Stuart Iowa
| Home | Letters to the Editor |
| Newspaper Articles | Pictures | How to Help | E-Mail Us |
---
Guthrie Center Times
September 1, 1999
Page 1
ALL SAINTS ISSUE SETTLED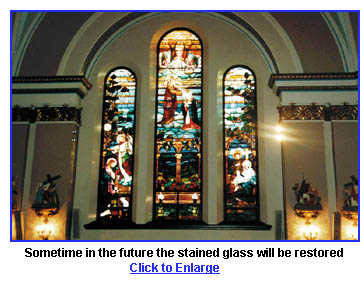 The future of All Saints Catholic Church in Stuart is settled.
Owners of the structure are a group of residents that bid $7,200 to purchase the former church building.
Approval of the sale to Project Restore came from Bishop Joseph Charron after the All Saints Parish Council recommended sale.
Earlier, the city of Stuart requested any new owner of the building comply with city regulations. However, the new purchaser asked the city to suspend enforcement of the rules until the next council meeting. At this time, the group is expected to make a presentation of the future use of the structure.
They announced they want to rehabilitate the building over the next three years. They plan a fund raising effort for the building to be used as community cultural center and as a religious effort and for community meetings area uses.
---
Back to Newspaper Articles Menu