PROJECT RESTORE: All Saints Church, Stuart Iowa
| Home | Letters to the Editor |
| Newspaper Articles | Pictures | How to Help | E-Mail Us |
---
The Des Moines Sunday Register
September 12, 1999
Page 2M
PLANS ARE MADE FOR BURNED CHURCH
Stuart, Ia. -- A group hoping to restore the former All Saints Catholic Church here will unveil its plans Monday night to city officials.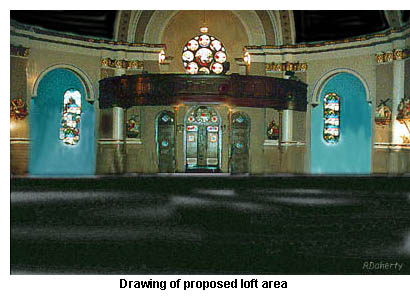 Project Restore expects to finalize a contract to buy the burned-out church Wednesday. Plans call for a 400-seat cultural center in the former church that could be used for receptions, reunions, theater productions and conferences. The group also wants to include an area that would focus on religious intolerance.
Authorities said an arsonist with a grudge against the Roman Catholic Church torched All Saints in 1995. The parish recently built a new church on the east edge of town.
The restoration could take three years and cost at least $1.5 million. Fund-raising will begin shortly after the nonprofit group takes ownership.
---
Back to Newspaper Articles Menu